Memorial: Work by Artists of the Venezuelan Diaspora

Memorial: Arte por Artistas de la Diáspora Venezolana

Curated by Camila Salcedo

Xpace Cultural Centre, Toronto, ON.
February 2020



Memorial: Work by Artists of the Venezuelan Diaspora

is a touring exhibition which features work by young Venezuelan artists who have immigrated and are creating work within the context of Canada: Ana Luisa Bernardez Notz, denirée isabel, Sebastián Rodríguez y Vasti, Alejandro Rizzo Nervo, Cecilia Salcedo, and Camila Salcedo, and Andrea Dudier, who is currently living and making within the context of Argentina. The title "Memorial" is a reference to both mourning and memory in regards to the current Venezuelan migration and humanitarian crisis, and as a result of being displaced which has placed us far away from our families and familiar spaces.

︎︎︎ Curatorial essay

Memorial: Arte por Artistas de la Diáspora Venezolana

es una exhibición de artistas venezolanos que han emigrado y están creando desde el contexto de Canadá: Ana Luisa Bernardez Notz, denirée isabel, Sebastián Rodríguez y Vasti, Alejandro Rizzo Nervo, Cecilia Salcedo y Camila Salcedo, y Andrea Dudier, quien actualmente vive en Argentina. El título "Memorial" es una referencia al proceso del duelo y a la memoria debido a la actual crisis migratoria y humanitaria en Venezuela, y como resultado de haber sido desplazados, lo que nos alejó de nuestras familias y lugares familiares.

︎︎︎ Texto curatorial




FAMILY HISTORIES AND MEMORIES

Since the start of the migration crisis, family histories and how we remember them have become increasingly important to Venezuelan immigrants. With family members often times scattered all over the world, how do we come to terms with notions of quality family time, and preserving family memories, when we are so far away from each other?




denirée isabel

to the strangers i love deeply
2019

handwoven cotton, mirrors & digitally print silk organza.


to the strangers i love deeply by denirée isabel is a textile installation in which the artist explores her relationship to family, community and love by framing textiles as "love gestures". This particular gesture includes delicate woven textiles, along with digitally printed family photographs of her grandparents who still reside in Venezuela, and who are far away in memory and physical space.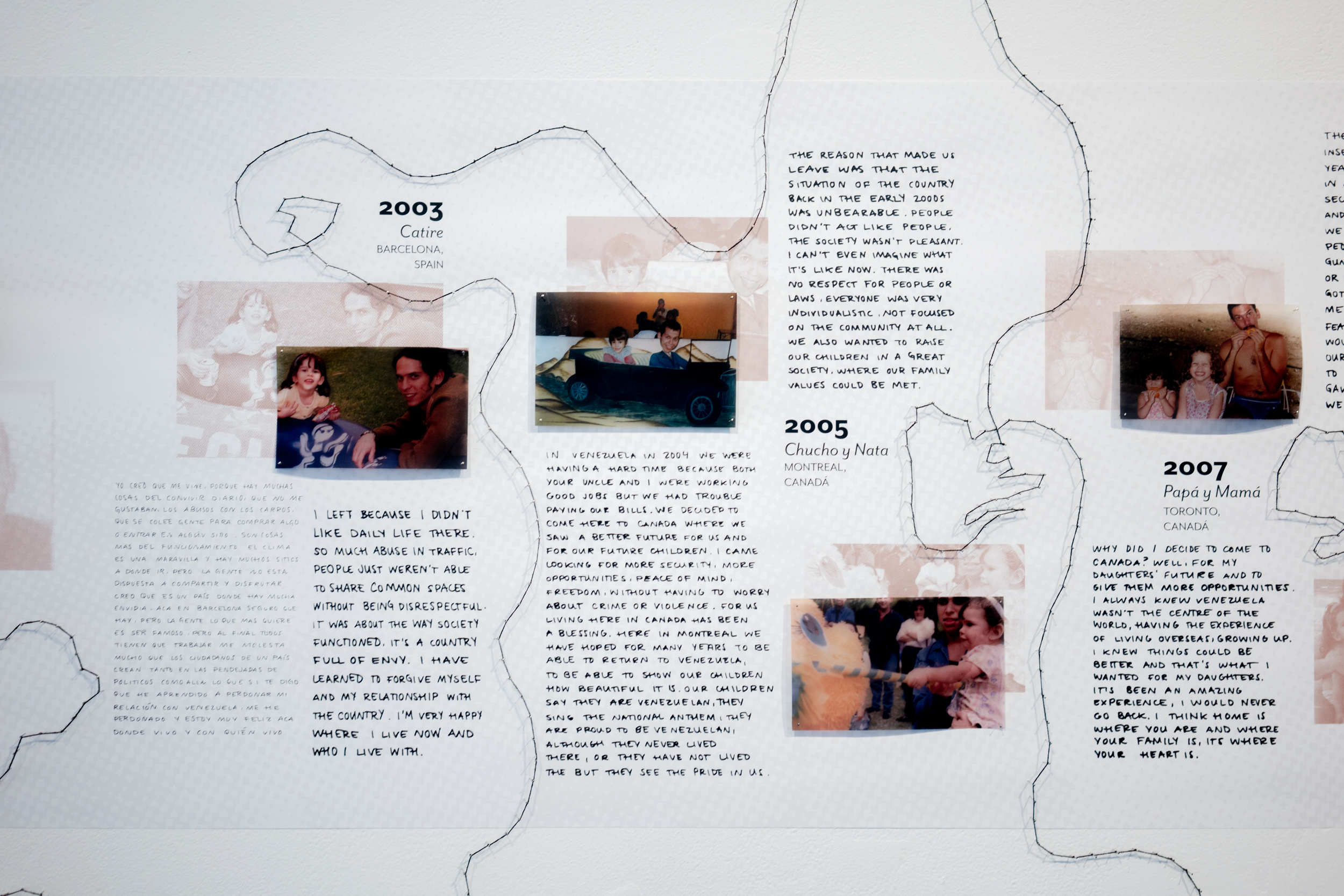 CECILIA SALCEDO

Una Cuerda de Nunca Reventar/ Collectors
2019

Interactive PDF adapted to print.

Una Cuerda de Nunca Reventar/ Collectors is an interactive PDF (to be adapted into print and audio components for this exhibition). In this work she intends to humanize immigration and immigrant stories by showing a narrative about her family's immigration journey, and how they became disconnected and fragmented over time through this process. She aims to create human connections to a
concept which is usually represented by statistics and data in the media.

SEBASTIAN RODRIGUEZ Y VASTI

Estela/Wake
2020

Opening reception performance: poetry reading.
Estela/Wake by Sebastián Rodríguez y Vasti is a reading of a bilingual poem. The title, Wake is used as a metaphor for mourning, memorializing, and water –physical waterways, emotional drowning and tears. Sebastián reflects on growing up near the water, and on his recent separation from his family. With his immediate family scattered and dispersed throughout the world, the poem points to the uncertainty that this separation poses –when will they see each other again?




ANA LUISA BERNARDEZ NOTZ

@Reu/Keepsakes
2020

Opening reception performance: DJ set and video projection.

@Reu / Keepsakes by Ana Luisa Bernardez Notz, who performs as Ana Luisaaaaaa, is an immersive DJ performance which includes samples of voice-notes, and a slideshow of old videos and photo projections from her closest friends. This performance becomes a space of honoring joy and celebrating nostalgic memories through playing songs the artist and her friends grew up dancing to.





NEWS/CRISIS

Reading the news, receiving scarce texts from our families during power outages, and hearing stories from our families and friends in these times of crisis becomes gruelling, draining, and depressing. Art is a clear form of catharsis and a necessary vehicle for dissemination especially when journalists in Venezuela are often and consistently silenced, and english-language news or reliable articles outside of the country are hard to come by.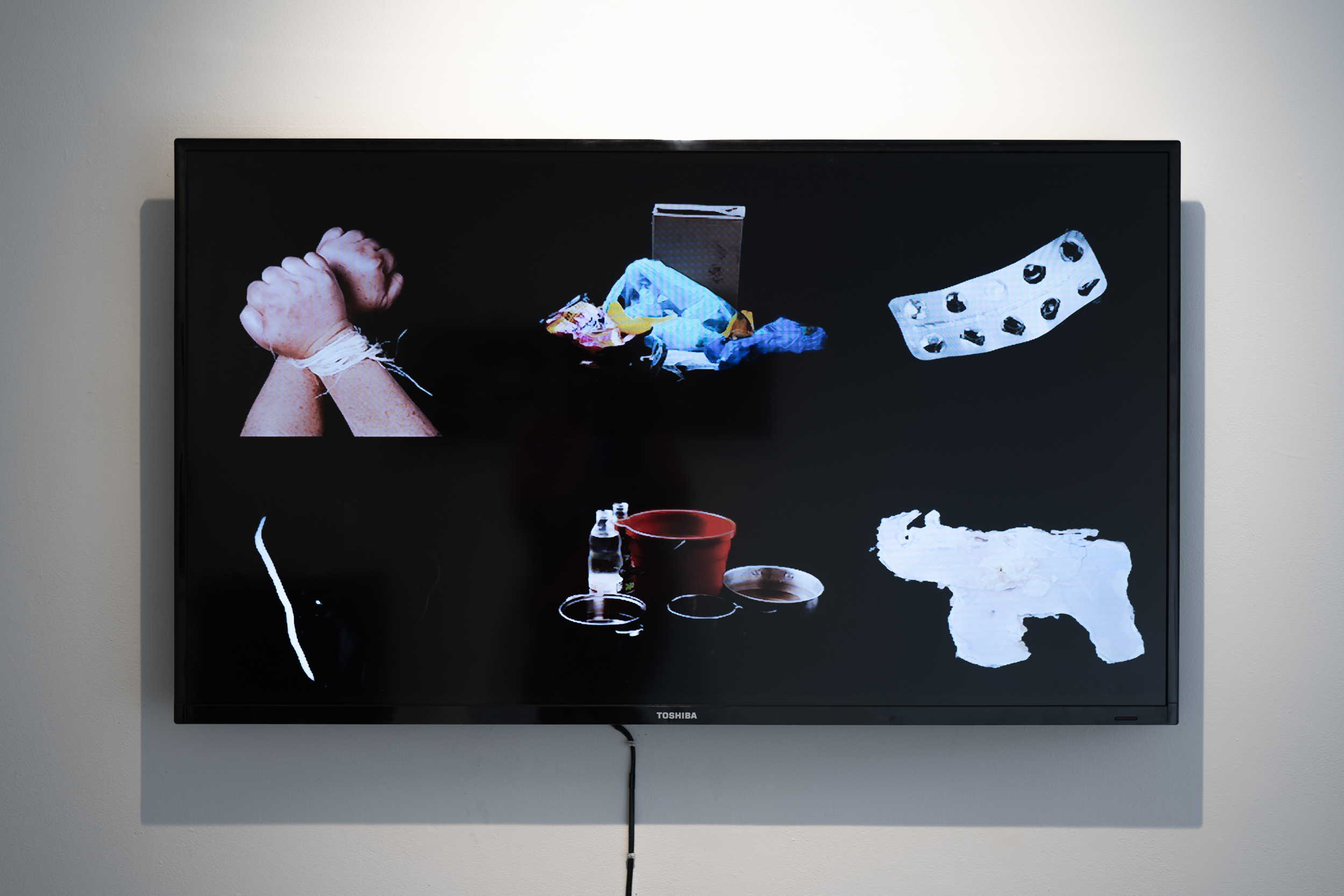 ANDREA DUDIER

Venezuela, país de ausencias (Venezuela, country of absences)
2020

GIFs
Venezuela, país de ausencia (Venezuela, country of absences) by Andrea Dudier is a series of GIFs originally intended for sharing on Instagram and created as an act of catharsis. She uses the GIF as a method that is analogous to poetry, and as a revolutionary visual tool for liberation through images of decomposition. These beautifully composed 6-8 second snippets of time aim to portray some of the many absences in Venezuela, where basic necessities are not widely available.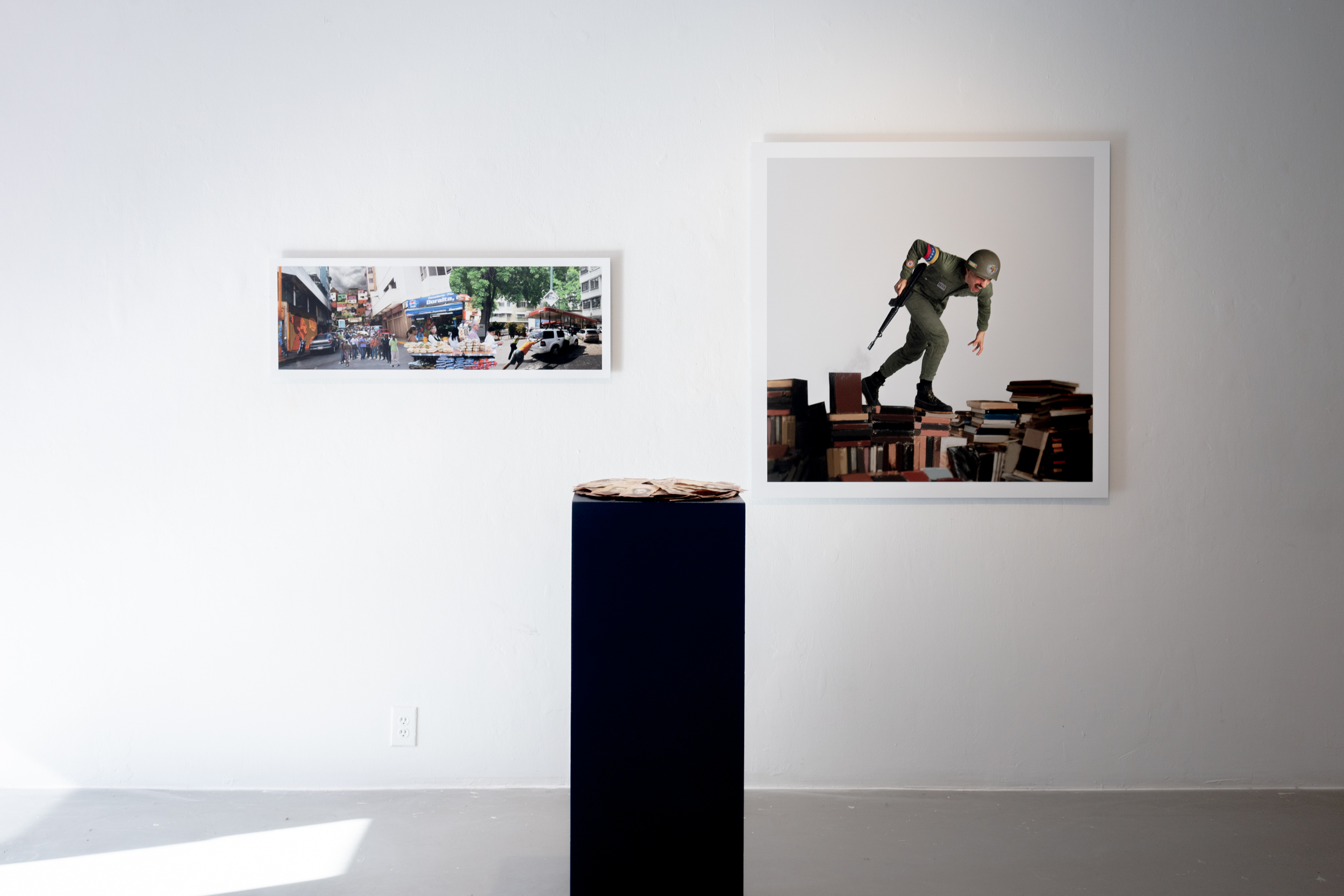 ALEJANDRO RIZZO NERVO

Fabricated Realities
2019

Ink jet prints & paper bill sculpture

Fabricated Realities is a series of photographs that talk about contemporary Venezuelan social and political disputes through digital collages, sound, and installation of large size prints. He is currently working as an immigrant in Canada, and he feels the need to expose the problems in Venezuela through his art, creating a hybrid between fabricated and documented photography.



CAMILA SALCEDO

Alternate Reality (Santa Paula, El Cafetal, Caurimare, Caracas)
2019

Video.
Alternate Reality (Santa Paula, El Cafetal, Caurimare, Caracas) video collage in which I use SketchUp, Google Maps satellite photos, Google Image Searches, Google user 360o images, and found YouTube videos to attempt to recreate
the neighbourhood I grew up in in Caracas, Venezuela, and as a response to the
Venezuelan government's banning of Google Streetview.