Memorial: Work by Venezuelan Diaspora Artists
Memorial: Arte por Artistas de la Diáspora Venezolana


Curated by Camila Salcedo

Khyber Centre for The Arts, Halifax, NS.
January - February 2020



Memorial: Work by Artists of the Venezuelan Diaspora

is a touring exhibition which features work by young Venezuelan artists who have immigrated and are creating work within the context of Canada: Ana Luisa Bernardez Notz, denirée isabel, Sebastián Rodríguez y Vasti, Alejandro Rizzo Nervo, Cecilia Salcedo, and Camila Salcedo, and Andrea Dudier, who is currently living and making within the context of Argentina. The title "Memorial" is a reference to both mourning and memory in regards to the current Venezuelan migration and humanitarian crisis, and as a result of being displaced which has placed us far away from our families and familiar spaces.

︎︎︎ Curatorial essay

Memorial: Arte por Artistas de la Diáspora Venezolana

es una exhibición de artistas venezolanos que han emigrado y están creando desde el contexto de Canadá: Ana Luisa Bernardez Notz, denirée isabel, Sebastián Rodríguez y Vasti, Alejandro Rizzo Nervo, Cecilia Salcedo y Camila Salcedo, y Andrea Dudier, quien actualmente vive en Argentina. El título "Memorial" es una referencia al proceso del duelo y a la memoria debido a la actual crisis migratoria y humanitaria en Venezuela, y como resultado de haber sido desplazados, lo que nos alejó de nuestras familias y lugares familiares.

︎︎︎ Texto curatorial



GRANDPARENTS


ANA LUISA BERNARDEZ NOTZ

Un espacio suspendido (A suspended space)
2019-2020

Virtual reality environment, 360 video


Un espacio suspendido / A suspended space by Ana Luisa Bernardez Notz, is an immersive virtual reality environment, relating to the artist's overall interest in exploring the family archive, and the relationship between the grief processes of loss and longing. In this work, she recreates her grandmother's room in Caracas. Her grandmother was displaced to a nursing home a few years after she moved to Canada, making this bedroom an inaccessible limbo space for both of them.

denirée isabel

to the strangers i love deeply
2019

handwoven cotton & digitally print silk organza.


to the strangers i love deeply by denirée isabel is a textile installation in which the artist explores her relationship to family, community and love by framing textiles as "love gestures". This particular gesture includes delicate woven textiles, along with digitally printed family photographs of her grandparents who still reside in Venezuela, and who are far away in memory and physical space.
FAMILY HISTORIES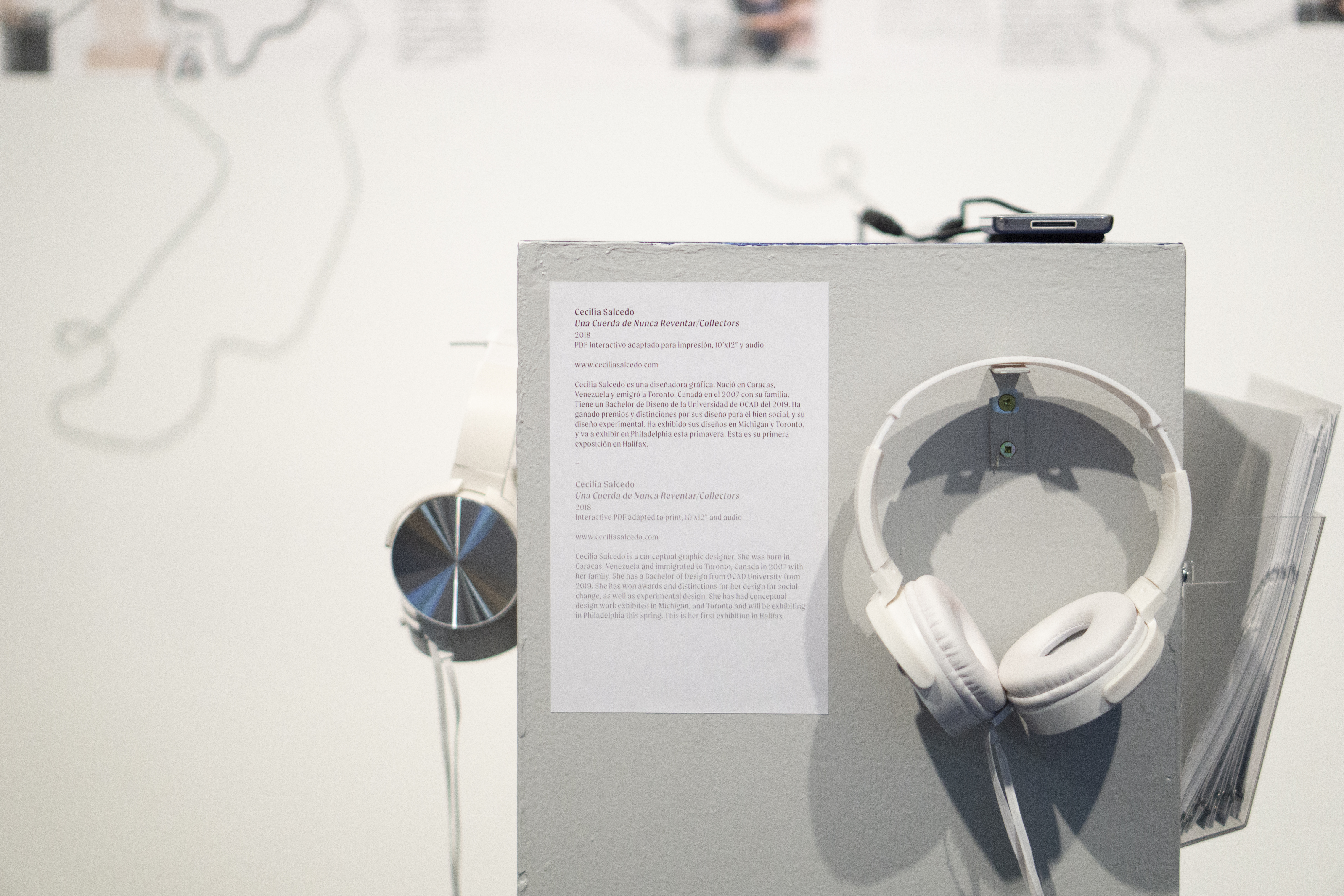 CECILIA SALCEDO

Una Cuerda de Nunca Reventar/ Collectors
2019

Interactive PDF adapted to print.


Una Cuerda de Nunca Reventar/ Collectors is an interactive PDF (to be adapted into print and audio components for this exhibition). In this work she intends to humanize immigration and immigrant stories by showing a narrative about her family's immigration journey, and how they became disconnected and fragmented over time through this process. She aims to create human connections to a
concept which is usually represented by statistics and data in the media.
SEBASTIAN RODRIGUEZ Y VASTI

Estela/Wake
2019

Installation of framed family portraits
& video-performance.


Estela/Wake by Sebastián Rodríguez y Vasti, is an installation of framed family por traits, including a framed video performance of the artist staring at another portrait. In this work, he explores portraiture and family photographs as memory-captures and objects of remembrance. In the performance he focuses on the action of staring into a portrait in the aims of having the viewer reflect on how they themselves interact with their family portraits.
NEWS/CRISIS
ANDREA DUDIER

Venezuela, país de ausencias (Venezuela, country of absences)
2020

GIFs


Venezuela, país de ausencia (Venezuela, country of absences) by Andrea Dudier is a series of GIFs originally intended for sharing on Instagram and created as an act of catharsis. She uses the GIF as a method that is analogous to poetry, and as a revolutionary visual tool for liberation through images of decomposition. These beautifully composed 6-8 second snippets of time aim to portray some of the many absences in Venezuela, where basic
necessities are not widely available.



ALEJANDRO RIZZO NERVO

Fabricated Realities
2019

Ink jet prints

Fabricated Realities is a series of photographs that talk about contemporary Venezuelan social and political disputes through digital collages, sound, and installation of large size prints. He is currently working as an immigrant in Canada, and he feels the need to expose the problems in Venezuela through his art, creating a hybrid between fabricated and documented photography.
CAMILA SALCEDO

Alternate Reality (Santa Paula, El Cafetal, Caurimare, Caracas)
2019

Video.
Alternate Reality (Santa Paula, El Cafetal, Caurimare, Caracas) video collage in which I use SketchUp, Google Maps satellite photos, Google Image Searches, Google user 360o images, and found YouTube videos to attempt to recreate
the neighbourhood I grew up in in Caracas, Venezuela, and as a response to the
Venezuelan government's banning of Google Streetview.